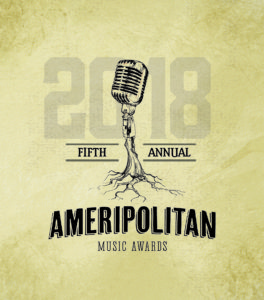 (MEMPHIS, TN) – With just two months to go until the inaugural Memphis Ameripolitan Awards weekend, more details are announced today about the packed four days of events, including showcasing artists, featured fashion, and how to cast your vote for the best in Ameripolitan music.
The official Ameripolitan Awards ballot is available exclusively through Ballot Blaster. Fans can vote online beginning Thursday through the Ballot Blaster app, available for free download in the Apple and Android stores. Fans will be able to vote once per category. The ballot will close on Jan. 11.
Winners will receive their awards on Feb. 13, 2018, at the Guesthouse at Graceland during an incredible night of music featuring previously announced performers James Hand, Reverend Horton Heat, Unknown Hinson, Nikki Lane and Asleep at the Wheel, plus the newest additions to the line-up: Lloyd Green, Motel Mirrors and a Sun Records tribute featuring W.S. Holland, J.M. Van Eaton, Matthew Nelson and Gunnar Nelson, Sleepy LaBeef, The Blackwood Brothers, Big Sandy, Jason D. Williams, John Paul Keith and Jerry Phillips. Showcasing artists include Whitey Morgan, James Intveld, Hillbilly Casino, Levi Dexter, Peter Sandburg of The Go Getters, Bloodshot Bill, The Greenline Travelers, Bonnie Montgomery, Carolyn Sills, Whitney Rose, Sean Mencher, Josh Sorheim and more to be announced.
Ameripolitan will also showcase stars on the runway, with a fashion show featuring designers including Manuel Couture, Lanksy Brothers Clothiers, Bernie Dexter, Fables by Barrie, Riley Reed, Vinyl Ranch, Ellie Monster and HBarC. Ameripolitan Award nominees will take on modeling duties and don some legendary frocks for the event, which will take place at the Guesthouse on Feb. 12.
Finally, in addition to the activities at the Guesthouse at Graceland open only to Ameripolitan wristband holders, Memphians are invited to get a taste of Ameripolitan at two free, public events: Feb. 9 at Loflin Yard (pre-party and Hot Rod show hosted by Ameripolitan founder Dale Watson with Rosie Flores and other special guests) and Feb. 12 at Blues City Café on Beale Street (satellite showcases).
AMERIPOLITAN AWARDS WEEKEND EVENTS
Friday, Feb. 9 | Loflin Yard
Ameripolitan Pre-party and Hot Rod Show, 9 p.m.
Free to the public, hosted by Ameripolitan founder Dale Watson and Rosie Flores with special guests
Saturday, Feb. 10 | Guesthouse at Graceland
Honky Tonk and Western Swing showcases, beginning 8 p.m.
Open to Ameripolitan wristband holders only
Sunday, Feb. 11 | Guesthouse at Graceland
Rockabilly and Outlaw showcases, beginning 8 p.m.
Open to Ameripolitan wristband holders only
Monday, Feb. 12 | Guesthouse at Graceland
Vendor booths open throughout the day
Ameripolitan Fashion Show, 4 p.m.
Monday, Feb. 12 | Blues City Café on Beale Street
Ameripolitan satellite showcases, 9 p.m.
Satellite showcases will be free and open to the public
Tuesday, Feb. 13 | Guesthouse at Graceland
Ameripolitan Awards, 8 p.m.
Tickets for the Ameripolitan Awards are available now at Ameripolitan.com.
ABOUT AMERIPOLITAN AWARDS
The Ameripolitan Music Awards were created to benefit and acknowledge artists whose work does not readily conform to the tastes of today's "country" or other music genres and organizations. It also provides fans with a means of finding these artists and their music. Ameripolitan – This thought provoking word is intended to be an invitation to discuss the future of the music that is important to so many of us. By leaving the hopelessly compromised word "country" behind and exclusively using the term "Ameripolitan," our intention is to reestablish this music's own unique identity, elevate its significance and help reinvigorate it creatively. Also, because of our place in history, we have the privilege and responsibility to pass a great musical tradition on to future generations who will otherwise have no direct connection to this music. The Ameripolitan Music Awards began in 2014 in Austin, Texas. The fifth annual event will be held in Memphis, Tenn., in February of 2018.
###
Posted In: Blog, Signal Flow news