Editor's note: Each week, we'll be featuring a guest blog from a local musician or someone involved in the music business. This week, we welcome Memphis singer and longtime Signal Flow client Keia Johnson.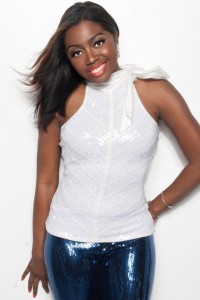 Keia's question: What was your favorite live Memphis music moment?
"Where do I even begin? I feel like Memphis is the place that introduced me to passion, what a real guitar player should sound like. How funky a real bass player should make you feel. How soulful and classical and jazzy a true piano player should make you feel. How in the pocket a real drummer is. I didn't even know what a pocket was before Memphis. I can remember hearing City Champs at the Bucc for the first time. I was like, are these guys for real?! The way they played so soulful and folk at the same time. I didn't even know that was possible! I remember the comfort of the intimacy of the Bucc and I could listen for hours.
Then there was the first time I went into BB King's back when Larry Springfield was the lead singer, Harold Collins on guitar — these guys blew my mind. I mean I've heard "Let's Stay Together" as many times as the next person but never the way they did it. Then my favorite band came to Memphis, Mint Condition. They played at this place on Madison that isn't even open anymore but it was a small venue that had the sounds vibrating and bouncing off of every wall. That's the Memphis way. I don't even remember who I was with but I remember how amazing it was to be that close to my favorite band.
I remember when Cafe Soul was open and the level of quality performers and entertainers I used to watch. Most have now gone to LA now and are doing so well. Singing behind major artists like Macy Gray and others. And the musicians are playing with the legends, Stevie Wonder, Prince, I mean I used to hear these guys every week. So amazing how much talent this city has. Memphis is made to shape, mold and give character to musicians and singers and that depth, that sheer rawness that Memphis gives is unlike any other city I know. My Memphis live moment spans years of immense talent, venues, artists and musicians but all together they create an amazing moment in my mind that makes me who I am. Memphis Music."
Check in with Keia on Facebook or on her website.
From the banks of the Mississippi River to the stages of Hollywood, singer Keia Johnson has been all around the world but still calls Memphis home. Growing up in a military family, Keia has had the opportunity to live everywhere and, from each place, collect a little musical knowledge to take with her. It's from this unconventional education that Keia has crafted her self-proclaimed style of singing, Rock Soul. On the heels of her latest musical release in 2012, Keia is now pursuing more roles in musical theater and just finished a run in The Color Purple at Playhouse on the Square.
Posted In: Blog, Keia Johnson, Signal Flow news