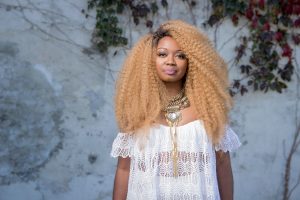 She has a voice that can launch a thousand ships, and the drive to keep them afloat. Add to that heaps of personality and a raw talent that sends the blues colliding with its rebellious offspring rock'n'roll and you've got a style Keia Johnson has dubbed "Rock Soul."
​
Growing up overseas in a military family, Keia listened to a wide range of artists from Alanis Morissette and Erykah Badu to Marvin Gaye and Mint Condition. While her sound can't be pinned down to one influence or another, those artists inspired her to be more than mediocre – more than just a pretty voice. Her lyrics are inspired by the perspective she gained living outside of her home country and the life lessons she learned along that road. But she didn't find her sweet spot on stage until she returned to Memphis and started singing with cover bands. The experience evolved her into a great interpreter of songs, able to bring her unique articulation and personality to everything from Judy Garland to The Black Eyed Peas. She has performed with some of the best talent Memphis has to offer, while also building relationships with notable national names like The Bar-Kays and pushing herself as an entertainer — she made her acting debut in 2011 in the independent film "Lesson Before Love," for which she was also featured on the soundtrack.
​
Keia is determined to have her voice heard – this is the girl who once charmed her way into an audition for an adult choir with GRAMMY® nominee James Bignon, after all. He requested that Keia sing her own solo. After making history for the Pacific Wide Gospel Concert, she took part in several television shows and celebratory performances. But it was American Idol that served as the true catalyst for Keia to recognize who she was as an artist and what she wanted to do with her career. The talent competition led her to Hollywood where "Miss Congeniality" wowed the judges. Her audition performance of Celine Dion's vocally rigorous "My Heart Will Go On" prompted guest judge and musical role model Mary J. Blige to simply declare: "She can sing!"
​
And sing she has — for everyone from President Bill Clinton and Memphis Mayor A.C. Wharton to Tyler Perry, Denise Williams and Eric Jerome Dickey. In June of 2011, Keia released her first solo effort, T.I.M.E. Look for an EP in the spring of 2012 that will highlight Keia's passion for giving back, featuring songs for children and an accompanying reader with a portion of all proceeds designated to children's charities. In early 2013 Keia recieved an Emmy for her PSA for the Memphis Music Foundation featuring her original song "Movin' On". She also competed on Season 4 of The Voice although her audition wasn't shown, the connections she made were priceless. She is currently in The Color Purple, in Memphis, TN. Make sure to keep up at ContactKeia.com.
Posted In: Clients