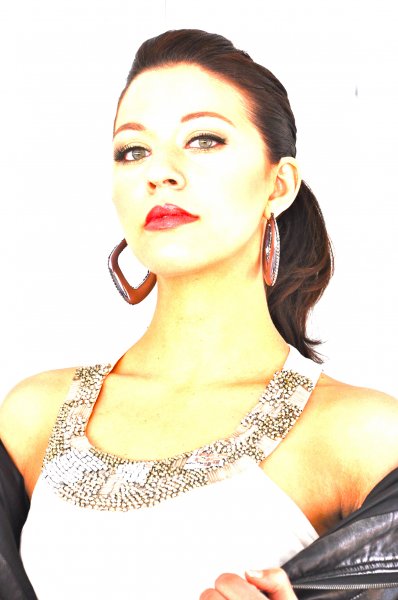 "London Rose brings a fresh new voice to the singer/songwriter scene. Hers is a modern sound with an old soul," claims Music Connection Magazine. The Indianapolis-based performer grew up with a deep passion for everything from Motown to boy bands to the blues. To find and harness the sound of her recently-released solo EP Kick Drum, London spent the Summer of 2013 in NYC teaming up with Grammy award-winning and nominated writers/producers. She teamed up with Greg Camp [Smash Mouth] and Jeff Franzel [Josh Groban, N*Sync] to pen what would become her 6-song debut.
On the heels of positive reviews of her EP, London has teamed with yet another Grammy-nominated musician, DJ/Remixer/Producer Dave Aude'. Currently with 95 #1 hits on the Billboard Dance Club Chart, Aude' has given London's title song Kick Drum a "club" makeover that has already landed it on the decks of some of the country's hottest DJs. London is preparing a summer tour to promote the EP and remixes, kicking off with a performance alongside Aude' in June.
London is currently nominated for 5 "Best Of Indy" Awards in her hometown including – Best Overall Artist, Best R&B/Soul, Best Vocalist, Best Album, and Best Video. As it turns out, she is no stranger to being on many "Best Of" lists as she spent several years cutting her teeth playing hundreds of gigs/year in Indianapolis' top-rated cover band, Living Proof. As lead vocalist, the band would top a variety of categories in the "Best Of Indy" and "A-List" awards year after year. During that stint, she would also find herself a part of the Super Bowl 46 festivities, performing at events for local sports teams Indiana Pacers and Indianapolis Colts, and on stage supporting legends such as Earth, Wind & Fire, Chicago, Morris Day & The Time, KC and the Sunshine Band.
"We love to see up and coming artists who shine above the rest and be successful through sheer hard work and determination. London Rose is one of those hard working folk who has obviously put in blood sweat and tears…", claims MyPlayTag.co.uk. Jamsphere.com says Kick Drum is "cleverly crafted, tightly produced, high energy songs that are insanely fun to turn up loud, sing along and dance to." And dancing is exactly what London Rose intends to do.
Posted In: Clients