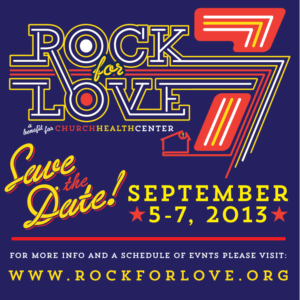 Rock for Love 7 officially kicked off with a VIP BBQ at Ardent Studios last night, but the fun isn't even close to done yet  — the event, benefiting the Church Health Center, lasts through the weekend. Read on for more fun things to do this weekend in Memphis!
Rock for Love 7:
Friday at the Young Avenue Deli:
DJ Devin Steel
Side Street Steppers – 8:30 p.m.
Reemus Bodeemus – 9:30 p.m.
Hope Clayburn's Soul Scrimmage – 10:30 p.m.
Kaleidophonix – 11:30 p.m.
Saturday Afternoon at Overton Park:
Elizabeth Wise – Noon
Chad Nixon – 1:15 p.m.
The Star Killers – 2:15 p.m.
Big E and the Mississippi Boys – 3:15 p.m.
Saturday Night at Levitt Shell:
Mark Stuart w/ Kait Lawson – 6 p.m.
Patrick Dodd – 7 p.m.
John Kilzer – 8 p.m.
Kirk Whalum – 9 p.m.
Afterparty at Young Avenue Deli:
DJ Devin Steel
Mighty Souls Brass Band – 10 p.m.
Dead Soldiers – 10:45 p.m.
Memphis Dawls – 11:30 p.m.
Tonight at the Levitt Shell, grab your blanket and picnic basket and settle in for Bryan Hayes + special guests, including our own Chris Milam!
Saturday at the Booksellers at Laurelwood, Mr. Del reads excerpts from Soul Ties: How to Detox from Toxic Relationships and signs copies of the book, 4 p.m. in the store's event space.
The Delta Fair continues through this Sunday. Check out the full line-up for music this weekend. (We recommend Kevin Rudolf, the first white artist to be signed to Cash Money Records, who plays Friday night on the main stage.)
Sunday, head out to East Memphis for an all-day benefit for Bill Murray (no, not that one! Bill is a local man fighting cancer) at Neil's from 2 – 8 p.m. The bill includes Keith Sykes, Almost Famous, Alex da Ponte and more. If you missed local songwriter Sykes performing last night at the Park Friends Presents…. series, here is your chance to catch him!
Posted In: Blog, Signal Flow news