New initiative to focus on exporting Bluff City's sound
(MEMPHIS, TN) – Beginning this fall, the Memphis sound is shipping out. Meet Music Export Memphis, a new initiative that will create opportunities for Memphis musicians across the U.S. and abroad as an export office for Memphis music.
Music Export Memphis will launch officially in September at AmericanaFest, the Americana Music Association's week-long conference and festival in downtown Nashville. The Memphis Americana Picnic on Saturday, Sept. 24, will feature a line-up of Memphis Americana bands and give attendees a taste of the city's beer, food and personality.
September's showcase is both the culmination of 18 months of planning and the beginning of the real work of the initiative. In January of 2015, Memphis music publicist Elizabeth Cawein (Signal Flow PR) began to develop an idea. She was tired of attending music events across the country where she felt strongly that a Memphis presence was needed.
"To consistently see other cities marketing their music scenes and to consistently not see Memphis in the mix was frustrating," Cawein says. "Primarily because I knew that none of these cities could hold a candle to what we have here."
And so, the idea for Music Export Memphis began to take shape. Cawein approached the Greater Memphis Chamber with the concept because they seemed like a natural partner. She saw the initiative not just as a tool to promote contemporary Memphis music and music tourism, but having the potential to impact talent attraction, retention and business development efforts by presenting Memphis as a creative city with a vibrant, eclectic music community.
"Music Export Memphis will assist in our economic development efforts, using the sound of Memphis as we promote the great reasons to do business in the Bluff City," says Greater Memphis Chamber President & CEO Phil Trenary. "This initiative will also be a vital tool in our efforts to recruit and retain talent who desire to live in creative cities."
Music Export Memphis' tactic toward that end is singular: to create opportunities for Memphis musicians outside the city. Festival showcases, like the inaugural event at AmericanaFest, made sense as a core element of the strategy because of the opportunity they present to create Memphis "experiences" alongside the music. Cawein hopes there will be evidence to support expanding the number of showcases presented year on year, and to explore more targeted opportunities, like international artist exchanges.
"By exporting one of our greatest assets, we'll create invaluable national and international showcasing opportunities for our musicians, empowering them to be our city's best ambassadors," Cawein says. "We'll also give outsiders a taste of the personality of the Bluff City designed to entice them in for a short trip (tourism) or a long stay (talent attraction and business development)."
Music Export Memphis launches with significant support from the Chamber and the Memphis Convention & Visitors' Bureau. For more than 25 years, the CVB has marketed Memphis around the world using music as a centerpiece of the city's story, making them an essential partner in any effort to showcase Memphis music globally.
"Memphis Musicians have always been instrumental in showcasing the Memphis brand around the world," says MCVB President and CEO Kevin Kane. "Today's active and touring musicians as well as the legacy of so many others that came before, help keep Memphis in the minds of potential visitors. The Music Export Memphis event is another effort to help us not only support Memphis Musicians but accomplish our goal of marketing Memphis to potential visitors."
The Americana Picnic will take place at The Filming Station at 501 8th Avenue South from noon to 6 p.m. on Sept. 24, and will be open to AmericanaFest badge and wristband holders. Attendees will enjoy a taste of Memphis food and beer, giveaways from I Love Memphis and have a chance to experience the Amurica photobooth.
If you can't make it, you're in luck – Memphis' own internationally syndicated radio program Beale Street Caravan will record the showcase for broadcast at a later date.
To learn more about future projects of Music Export Memphis, follow @MusicExportMEM on Facebook or Twitter.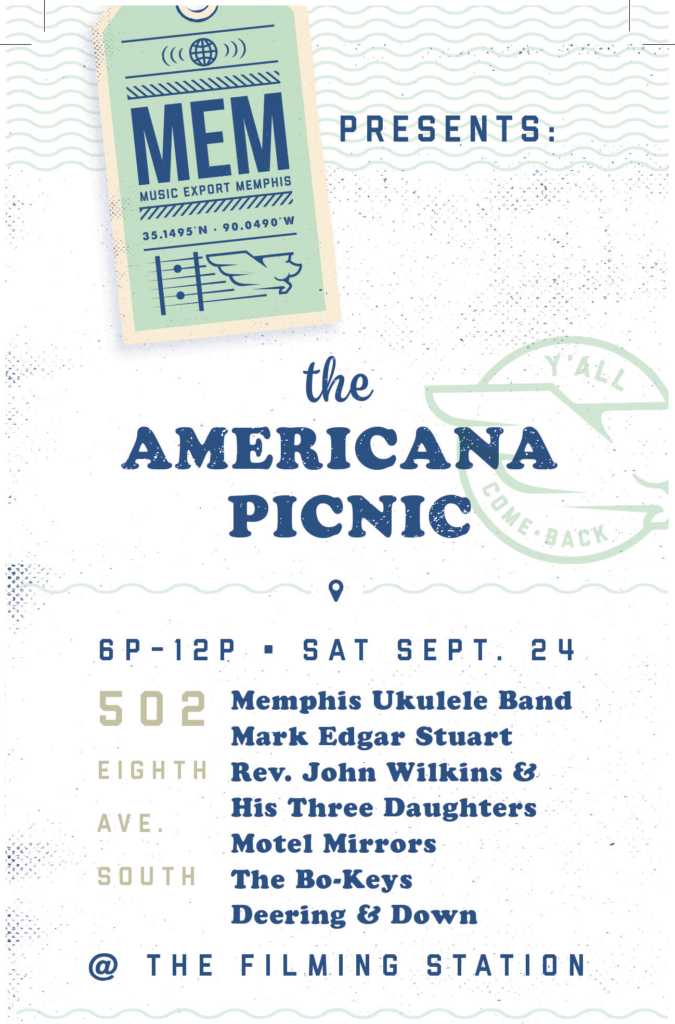 Posted In: Blog, Signal Flow news