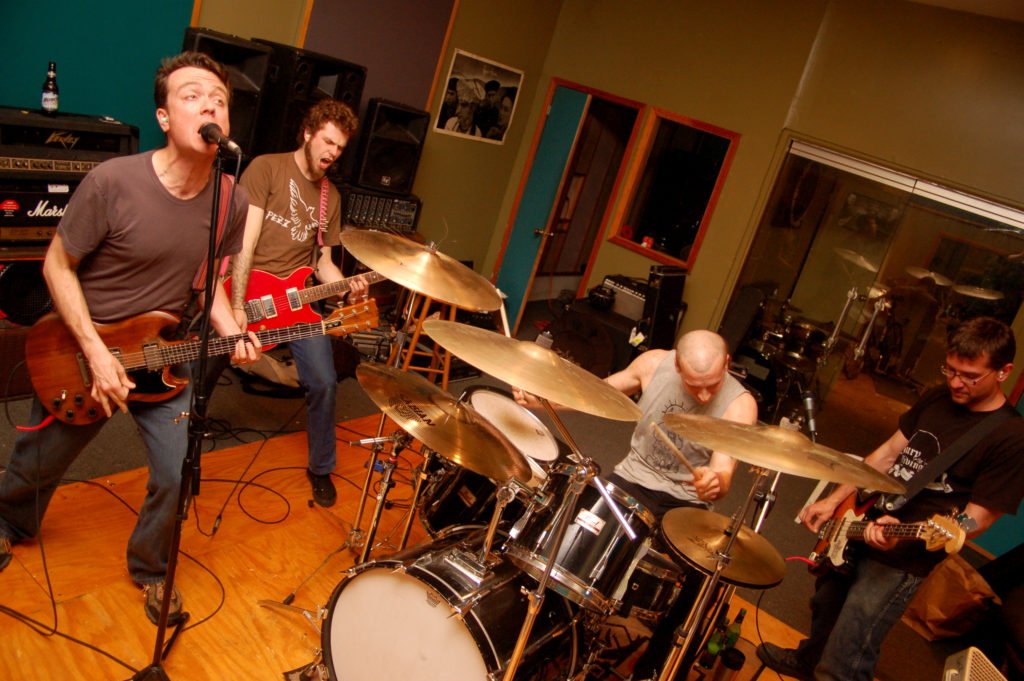 Pezz was formed in 1989 by Marvin Stockwell (guitar, vocals), Ceylon Mooney (guitar, vocals), Nic Cupples (drums) and Scott Bomar (bass). The band cut its teeth as part of the all-ages hardcore/punk scene based at the legendary Antenna Club. The band recorded a demo in 1991 and two 7" eps in 1992 and 1993 before Bomar left to pursue other projects.
Former Sobering Consequences front man Roy Isaksen joined on bass after that, and in 1995, the band released its debut album, "Livin' the Life of Riley," on Isaksen's Memphis-based Truant Records label and went on its first U.S. tour. Isaksen left the band in early 1996 and was replaced by Joey Mullinix. That year, the band released a split LP with Toronto's 2 Line Filler, after which Cupples left the band to start a business.
After a brief stint as a trio (Mooney switching to drums), Chris Coble joined on drums in the summer of 1996. In the summer of 1997, Pezz signed to seminal LA-based punk label BYO Records and recorded its second full-length album, "One Last Look," at Westbeach Recorders in LA with noted producer Steve Kravac.
Signing to BYO elevated Pezz's profile nationally and the band began what would be a four-year stint of almost non-stop touring, first in the U.S. and Canada, but later in the UK and Europe.
Mullinix left the band after the recording of "One Last Look," but Ben Nichols joined on bass for the tour and played with the band into early 1998 before leaving to form Lucero. After a brief stint with Brad Jackson on bass, Christian Walker joined on bass for the band's summer 1998 tour but returned to other creative projects after that.
J.D. Reager joined on bass in late 1998, and after a winter tour in early 1999, the band went into Chicago's Electrical Audio in the spring to record its third full-length album, "Warmth and Sincerity," with noted engineer Steve Albini.
The band toured extensively in the U.S. and Canada throughout the summer and fall of 1999, but the touring took its toll. Reager left during a three-month summer tour, and weeks later Stockwell suffered a severe hand injury. Mooney had moved to bass so the band could continue on as a trio, but Stockwell's injury forced the band to cancel the last few weeks of the tour. Coble left soon thereafter. For the band's fall tour, Walker rejoined on bass, the band recruited Chad Martin to play drums and Stockwell went as singer only while he rehabbed his hand.
In the spring of 2000, Stockwell returned to playing guitar, and Pezz toured the U.S. with Wesley Willis, again with Martin playing drums. In the fall, Mooney moved to drums and the band recruited Grant Miller to play second guitar for a U.S. tour with BYO labelmates Leatherface.
In the summer of 2001, Stockwell, Mooney and Walker went into Easley Studios in Memphis to record the band's fourth full-length album, "With Everything We Got," with engineer Stuart Sikes. Mooney pulled double duty playing drums and tracking the second guitar as well. In the fall, the band once again recruited Miller to play second guitar on what would be Pezz's final tour, first in the U.S. and then in the UK and Europe.
After that, Pezz went on hiatus to start families, be peace activists, go to school and travel the world. The band kept in touch and played every once in a while, but became a truly active band again in the fall of 2006. That lineup included Stockwell (guitar, vocals), Mooney (drums, vocals), Walker (bass) and Anthony Siracusa (guitar).
In 2008, Pezz released a split LP with friends While I Breathe I Hope, and also released a video for the song "I Liked Your Rough Draft Better," from the band's fourth album. In June of 2010, Pezz released a 7" EP called "The Wicked Leading the Blind," to mark the 20th anniversary of the band's first show. The record features two originals and a cover of "Watching You Sleep" by former BYO label mates Leatherface. The band also produced a video for the EP's title track.
After years of nonstop touring with the likes of Hot Water Music, At the Drive-In, Leatherface, 7 Seconds, Samiam, the Bouncing Souls and the late Wesley Willis, Pezz now stays close to its hometown of Memphis for the most part.
Pezz became a three-guitar band in 2010 with Stockwell and Mooney both on guitar and vocals, Walker on bass and vocals, Shawn Apple on guitar and Graham Burks on drums. In 2012, the band recorded its fifth full-length album, "More Than You Can Give Us" at its Crosstown studio. Engineer Alan Burcham was then brought in to mix the album.
Walker and Burks left the band in 2013 to pursue other projects, Mooney returned to drums and Siracusa rejoined to play bass. The band recorded seven songs in December of 2014 and have four additional unreleased songs from a summer 2009 session. In the fall of 2017, Siracusa completed his doctorate, got married and moved to take a job in Colorado. Walker rejoined on bass.
Discography
Kite-Eating Tree demo (1991)
Jalopy 7″ EP (Truant, 1992)
Free Ride 7″ EP (Truant, 1993)
Livin' the Life of Riley CD (Truant, 1995)
The Bittersweet Series, Vol. 3 split with 2-Line Filler LP/CD (Bittersweet, 1996)
One Last Look LP/CD (BYO, 1997)
Warmth and Sincerity LP/CD (BYO, 1999)
Split 7″ EP with Remus and the Romulus Nation (Soul Is Cheap, 1999)
And So It Stands 7″ EP (Soul Is Cheap, 2001)
With Everything We've Got LP/CD (Soul Is Cheap, 2001)
When Giants Walked the Earth split LP with While I Breathe I Hope (Makeshift Music, 2008)
The Wicked Leading the Blind 7" EP (Fat Sandwich, 2010)
Split 7" EP with Set Aside (7AM Vinyl, 2013)
More Than You Can Give Us LP (Truant, 2018)
MEDIA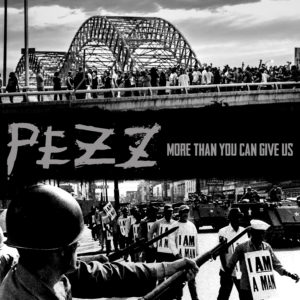 Media download: More Than You Can Give Us
Press release: More Than You Can Give Us
Album artwork for More Than You Can Give Us
Download photos, logos and album art
SOCIAL
PRESS
"Pezz' music has always been fast and hard, with a melodic streak that endeared them to pop-punk fans." – Chris McCoy, The Memphis Flyer
"Through the years, the band developed an identifiable, energetic, and smart take on what could be called "melodic hardcore." – Andrew Earles, The Memphis Flyer
"The tone of PEZZ's music is often aggressive with driving guitar riffs and lyrics that border on provocative, often speaking out against social issues like the death penalty, military conflicts in the Middle East and American political apathy." – Jonathan Devin, Memphis Daily News
CONTACT
Publicity: Elizabeth Cawein
Booking: Marvin Stockwell
Posted In: Clients