INDEPENDENT BANK PRESENTS: ROCK FOR LOVE 9
Church Health Center benefit music festival announces 2015 line-up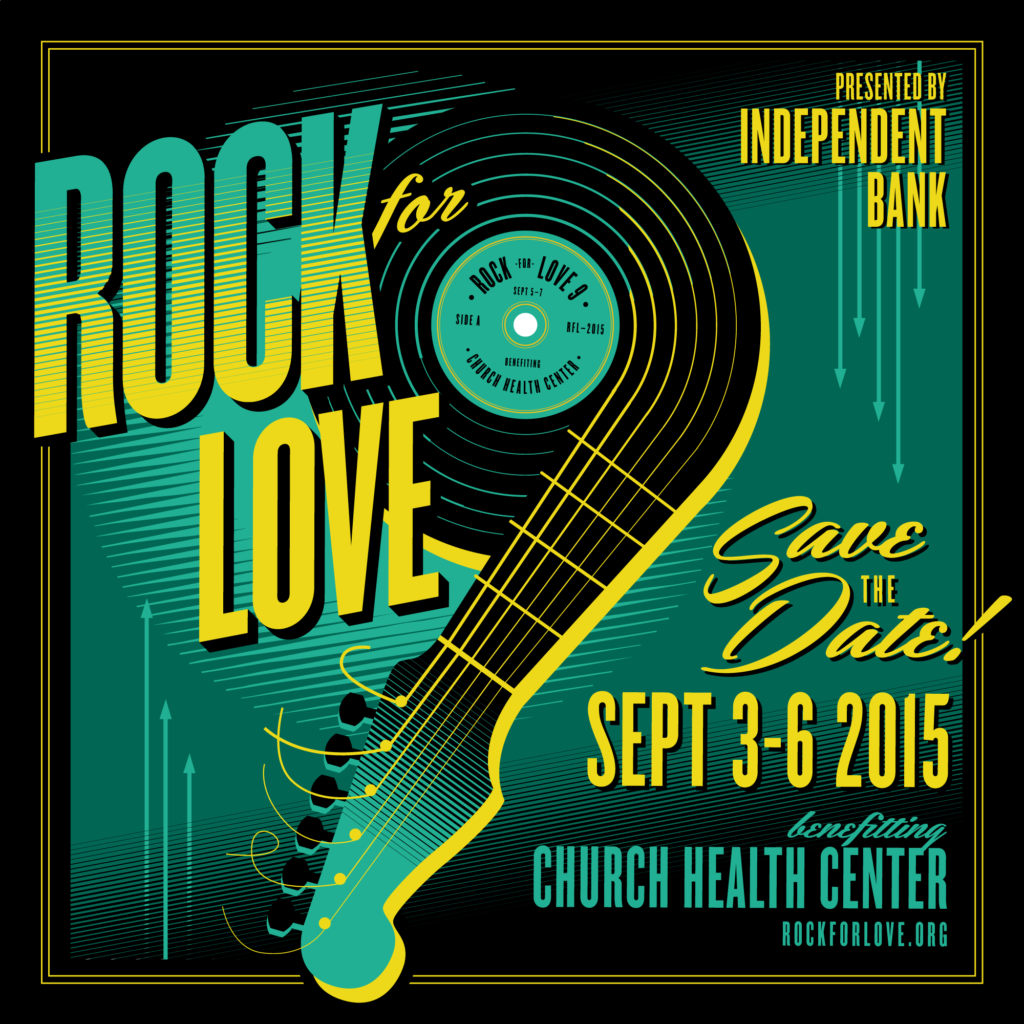 (MEMPHIS, TN) – The Church Health Center has one more reason to be excited about Crosstown this week as Rock for Love announces its 2015 music festival line-up and other surprises in store for the ninth annual event, happening Sept. 4-6 at locations across midtown.
The festival's live music kicks off Friday evening, Sept. 4 with a Crosstown Block Party that will bring together more partners and feature more stages than the inaugural event on the Cleveland strip in 2014. With singer-songwriters at Amurica Studios, punk and rock at The HiTone, hip-hop performance art and experimental electronic music at two Crosstown Arts spaces and an outdoor stage curated by Visible Community Music School, there's something for everyone.
Between sets, be sure to head outside where you can donate $5 to the Church Health Center for a few chances to sink some surprise guests in the official Rock for Love Dunk Tank hosted by Memphis Roller Derby. (Practice your aim and you might even get the chance to sink Church Health Center CEO Dr. Scott Morris!)
Saturday night, the party moves farther east to Lafayette's Music Room in Overton Square, and the Sunday evening finale at the Levitt Shell will send the weekend off right with the North Mississippi All-Stars. Longtime CHC partner Huey's will again host an unofficial kick-off event one week prior to the festivities, with live music by The Chaulkies at its midtown location on Sunday, Aug. 30, donating a portion of beer sales from the night to the Church Health Center.
Beyond the packed music line-up, Rock for Love 9 will also feature comedy (a Thursday night Memphis comedy showcase kicks off the weekend at the HiTone), an online auction with amazing items from local merchants and artists (begin bidding on August 10 at rockforlove.org), a signature brew courtesy of Memphis Made, and the launch of the Operation Crosstown Fitness Park. Stop by on your way to the Crosstown Block Party from 4:30 to 6 p.m. Sept. 4 to try out the fitness equipment, grab a Sno-Cone, jump into a drum circle or check out Parkour, hoop demos and games.
Rock for Love continues to be a marquee event for the Church Health Center – in 2014 the festival raised $50,000 – and Communications Director Marvin Stockwell said the growth of the Crosstown element of this year's event is no coincidence.
"As we look toward 2016, our focus is on building momentum in the Crosstown neighborhood," he says. "As such, it makes perfect sense that the piece of Rock for Love that will see the most growth this year is our Crosstown Block Party."
The block party is of course just one piece of the CHC's ongoing move into Crosstown, as Memphians anxiously await the completion of the Crosstown Concourse project with the CHC as an anchor tenant. Operation Crosstown activities – including the new fitness park – began in 2014 and are already bringing a CHC presence and new vitality to the neighborhood.
"We're trying to foreshadow what's possible," says Church Health Center President Antony Sheehan. "Music, arts, education, healthcare – all of these elements working in concert to make a better Memphis. It's a holistic view to health and community."
Rock for Love's success is dependent upon the generosity of sponsors. Rock for Love 9 sponsors include Independent Bank, Delta Dental, NexAir, ServiceMaster, Sun Studio, Huey's, Magnetic Digital Agency and media sponsors WMCTV5 and I Heart Radio.
ROCK FOR LOVE 9
Friday, September 4 // Crosstown Block Party
Amurica Studios
Mary Owens
Faith Evans Ruch
Couple Skate
Stephen Chopek
Mark Edgar Stuart
Crosstown Arts
Don Lifted
Mancontrol
Co-Motion Studio
DJ Witnesse & Zac Ives
Visible Community Music School Stage
VCMS Student Ensemble
Tooken
Rebecca Davis
Elder
The Passport
HiTone Café (main stage + small room)
Hannah Star
J.D. Reager & The Cold-Blooded Three
Sleepwlkrs
Pezz
James & The Ultrasounds
NOTS
Jack Oblivian
Saturday, September 5 // Lafayette's Music Room
Memphis Ukulele Band
Deering & Down
Hope Clayburn & Soul Scrimmage
Sunday, September 6 // The Levitt Shell
North Mississippi All-Stars
Posted In: Blog, Signal Flow news