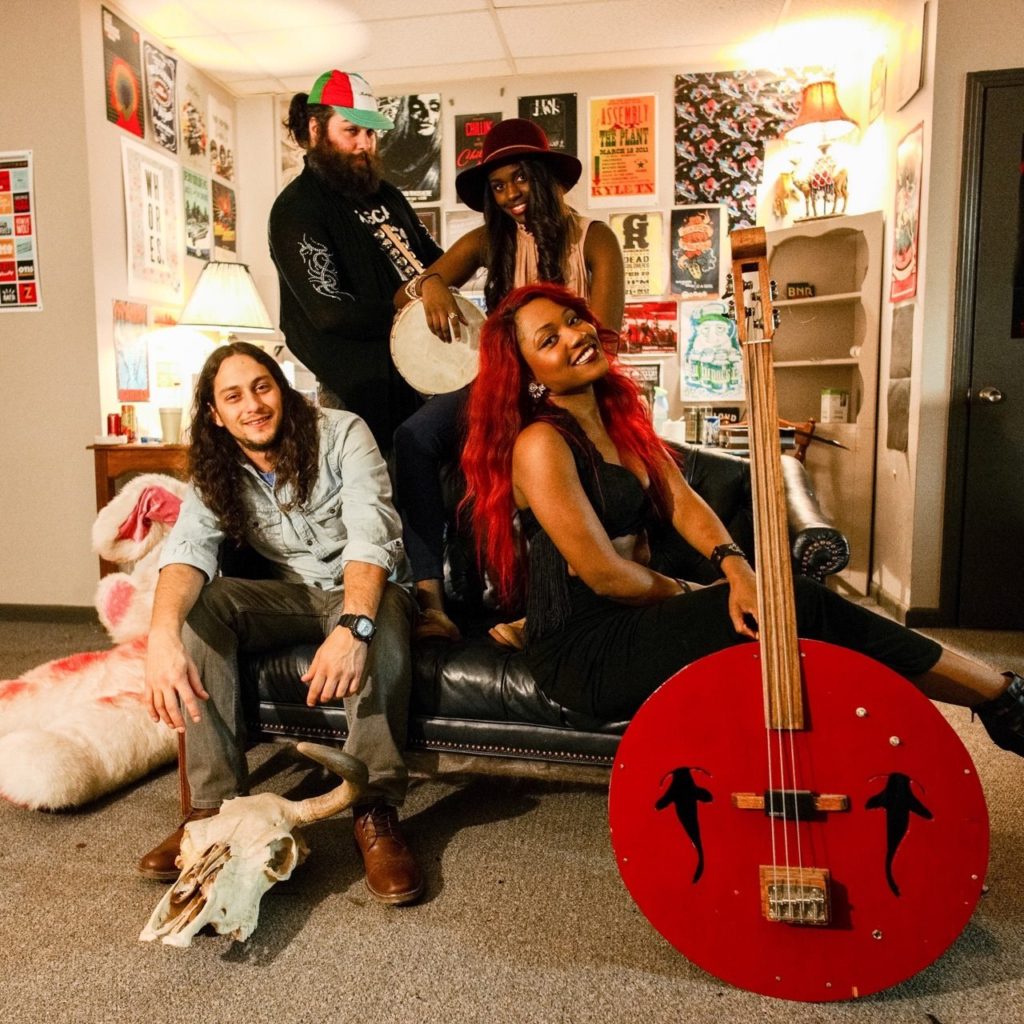 If Memphis music is a genre, this is it. Meet Southern Avenue: a band whose sound, while deeply rooted in the blues, explores soul, rock and gospel on its debut EP out this spring.
Propelled by masterful musicianship and powerhouse vocals, Southern Avenue consists of award-winning Israeli born guitarist Ori Naftaly and sisters Tierinii Jackson (vocals) and Tikyra Jackson (drums). Backed by some of Memphis' finest – Daniel McKee on bass and Jeremy Powell on keys – Southern Avenue is the high energy blues band that you don't want to miss. They're considered by many in the blues world to be the "future of the genre" – but to these bandmates, the sound represents something bigger, an ideal: to come together in music, spirit, and in the love of life.
It's that ideal they'll present to the world as they release their debut EP: five new, original songs produced by Kevin Houston (North MS Allstars, Lucero, Patty Griffin, Ana Popovic) and featuring Luther Dickinson on slide guitar.
Ori Naftaly arrived in Memphis in 2013 after his namesake band was awarded Best Blues Band in his home country of Israel. He came to the Bluff City to compete at the International Blues Challenge on historic Beale Street. Naftaly reached the 2013 IBC semifinals, selling the largest number of CDs ever in the competition's history, and in the year that followed he gained international recognition, support from the blues community and an extended fan base, thanks in no small part to extensive touring through the U.S. and Holland. The Ori Naftaly Band immediately took the blues world by storm, with more than 400 shows in 42 states, including headlining appearances at some of the most well-regarded blues festivals in the country. Naftaly has shared the stage with some of the best acts in the business: Tab Benoit, Ana Popovic, Bernard Allison, Shemekia Copeland, Royal Southern Brotherhood, Ron Holloway (The Allman Brothers), Marcia Ball, Danielle Nicole and many more.
Sultry, raw, soulful, powerful: that's Tierinii Jackson. Raised in the church in the heart of Memphis, Tierinii began her singing career as the youngest member in the choir, a preacher's daughter who quickly developed a spirit in her voice that can move mountains and pipes that can blow the roof off a building. There's a hot, hot heat to Jackson's coolness – she's got one of those big voices that catches you off guard, blasting like a firecracker from her petite frame, as her vocals captivate the room. In her adult years, Jackson, who has earned critical comparisons to the likes of Aretha Franklin, Etta James and Tina Turner, has starred as lead vocalist in several musical theatre productions, including "Dream Girls," "Spring Awakening" and Disney's "High School Musical 2." She has toured internationally with Todrick Hall, including on his most recent musical venture, "Twerk Du Soliel," as well as with the Hybrid Performance Group, where the multitalented songstress performed as both a singer and dancer. As she continues to soar in her artistic journey with Southern Avenue, Tierinii Jackson is a voice the blues world – and the music world – will be watching closely in the years to come.
Tikyra "TK" Jackson, is the younger, but no less talented, sister of leading lady Tierinii. Don't be fooled by her age, though – when it comes to musical chops, TK has no trouble holding her own. Raised alongside her siblings in the church, gospel music was her first love and influence. Growing up in such a musically driven family environment, choosing an instrument (well, in TK's case, multiple instruments) was just a natural first step; and it was at just 9 years old that she discovered her drive and passion for the drums. With the encouragement of her family and a welcoming place to hone her talents in the church band, the younger Jackson sister spent hours each day practicing every possible rudiment and skill necessary to master her craft – which many would argue she has already achieved at the young age of 21. The percussion prodigy (and now music business major at the University of Memphis) has continued to develop herself as an artist as an active participant in the university's marching band, The Mighty Sound of the South, and in the Memphis Tigers basketball pep band. TK says playing with Southern Avenue has re-defined and re-invigorated her love for music and performing, and it shows. She makes you feel it.
Look for Southern Avenue's self-titled debut EP out this spring.
Posted In: Clients