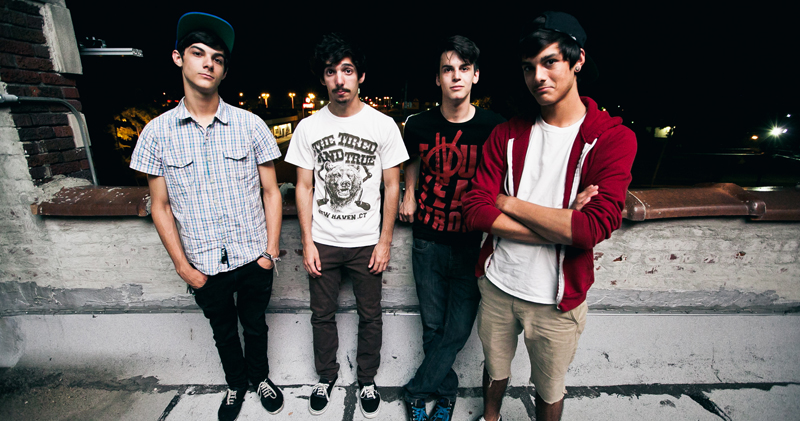 Ask The Summers to tell you about a defining moment, and not surprisingly, they'll point to one summer.
It was the summer of 2010. The band's debut EP, produced by Paul Ebersold at 747 Studios in Memphis, was about to be released. The three Summers brothers — Wesley (guitar/vox), Jared (bass/vox) and Branson (drums) — had been playing together as a band since 2007. They'd met Ebersold (Three Doors Down, Saliva) at a GRAMMY® event in 2008 and signed a production deal with him the following October, in 2009. But it was that particular summer, as they waited for the release date to near, that they started playing with Peter Armstrong. And that's when things started to change. Something was different about this new four-piece.
That summer they practiced together just about every night, staying up late, rehearsing, getting closer as friends and tighter, musically, as a band. The chemistry was solidified when Wesley and Peter wrote what would be the first song for their next record — which wouldn't be released for almost two years — that fall.
They had known Peter for a while before this — he'd been in the scene, playing with different bands and they'd seen him at gigs, had seen him play. But, as Peter points out, the band of brothers was still fairly young at the time. When the three first moved to Memphis and began playing regular gigs at Autozone Park in 2008, Branson was just 15 and twins Wesley and Jared were 13. When their path crossed with Peter's a couple years later, their age belied their experience. "They kept trying to hang out with me and I was like, y'all are 15!" Peter, who was 18 at the time, laughs. "But eventually they asked me if I wanted to come to their studio and I was like, 'Man, I've never been at a studio before. Except Sun Studio. So I had to go."
In the end — at least, two summers later — it seems like he's pretty glad he did. The guys clicked, and Peter was invited to join the band. In the months that followed, as their contract with Ebersold ended, the four young musicians starting coming into their own as independent artists. Branson started booking their shows, they got out on the road more and for the first time, they were doing the driving. "It was our first time not having someone we were working with, someone mentoring or coaching us," Branson says. "That was the first time we were on our own."
They booked a string of dates for a quick regional tour run, started meeting other bands and getting more involved in the scene and realized that they had a following — "We met these bands and we realized, we're in the same arena with them, and we're doing it on our own," Branson says.
From a band of three brothers that got its start at a rock school in Indiana, The Summers have evolved into a tight, pop-punk four-piece that can pack out a venue from Memphis to Knoxville to Louisville and back. Their new album, "It's No Life Story," is a statement. It's authentic. It's the journey from that one summer, to this: The Summers.
"We're just kids that like to play music," Peter says. And it probably is just that simple — kids playing music for kids who want to hear it. They'll be touring regionally in support of "It's No Life Story" following its release in August 2012.
Posted In: Clients