As usual, the Bluff City has a ton in store for the weekend!
On Friday, Dead Soldiers will hit the Hi-Tone stage performing songs fro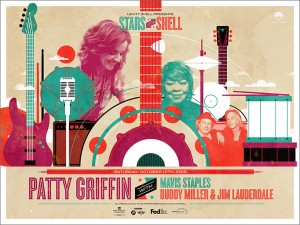 m their latest EP, All The Things You Lose. Show kicks off at 9:30 p.m., tickets are $10 at the door or you can pre-purchase through the Hi-Tone website. Red Mouth and Holy Ghost Electric Show will open.
On Saturday, the goodness continues. The 2013 Stars at the Shell concert with headliner Patty Griffin (and Mavis Staples, y'all!) is perfect for two or the whole family. A collective of roots and Americana stars, including Patty, Buddy Miller & Jim Lauderdale and of course Staples Singers legend Mavis Staples will rock the stage, all in the name of supporting two full seasons of free live music at The Shell. Doors open at 6 p.m. and music begins at 7 p.m. General admission is $25 in advance and $35 at the door. Don't drag your feet on this one! Visit The Levitt Shell to purchase your advanced tickets.
If that's out of your budget, not to worry – Wind Vs. Sun celebrates the release of Energy Crisis on Saturday night at the HiTone with The Perfect Vessels opening. Music begins at 9:30 p.m., it's for the 21 and up folks and it'll cost you just a $5 cover. (Insider tip: we've heard this record, and you need to hear it, too.)
Are you feeling more like an adult beverage and some space jams? Check this out – Ink Bar (the former Cortona in Cooper Young) is now featuring DJ nights on Fridays and Saturdays with DJ Witnesse and Handsome Mark. Here's a Facebook event with all the details.
If you want to get the family out with you, catch Signal Flow artist Loveland Duren at the Memphis Farmers Market on Saturday. Get some fresh eats and hear some great music starting at 11 a.m. and rolling through 12:30.
Oh, and – we heard about this other thing at the Young Avenue Deli. Be sure to wear your million dollar boots.
Posted In: Blog, Signal Flow news