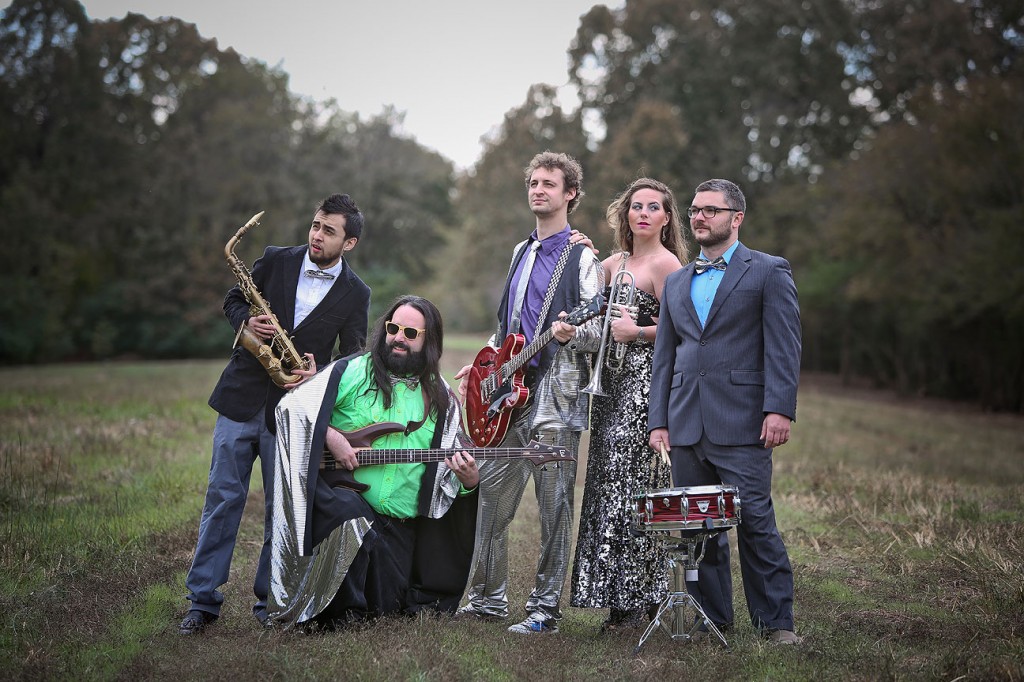 It started when they were young.
The Mutant Space Bats of Doom. That was when Zak Baker first discovered that he loved playing music for people. All of the Space Bats had stage names, and Zak was Zigadoo Moneyclips – a moniker he'd earned from a middle school gaffe that he would never shake. It followed him, through the Mutant Space Bats of Doom, through college, from one band to another, and to the night he fell in love with the woman who would be his wife – appropriately, at a concert.
That woman, Leigh, had her own story. A talented horn player throughout her school days, after graduation she all but abandoned her instrument. At the time, there didn't seem to be a lot of practical application for her trumpet skills, and she wanted to devote herself to her other passions: painting and the visual arts. It would be years later, at a weekly free-form jam project, that she picked up her horn again and began to write.
It paused for a child.
Zak met Leigh. Zak and Leigh fell in love. Zak and Leigh had a baby. Zak says Leigh's pregnancy with their daughter was the most inspired, prolific songwriting period of his life. "Those nine months were probably the most intense writing spell I've gone through," he says. "Everybody around me was saying, 'Once this kid comes, you're only going to have time to be a dad – not a musician."
And so he was a dad – because, like any new dad, he worried that he would miss something, anything, everything about his daughter's youngest years. But it wasn't long before he realized that this all-or-nothing approach wasn't the answer, either. "I was doing my daughter a disservice," he says. "I was teaching her, through example, that you give up on your dreams when other things come along. That you give up on a life of creativity. I didn't want her to grow up without seeing her parents actively involved in the arts."
It picked up for a random gig.
It was October of 2012, and a band Zak had been playing with was booked for a festival gig – but that band was in the midst of falling apart. Zak and Leigh had been making music together a lot in the comfort of their happy home, working up songs that each of them had written but couldn't find a place for in other projects. So they took a chance and decided to keep the show, and play the set themselves. This particular gig might've been an accident, but the collaborations hadn't been – and the next April, they found themselves booked, officially, for the first time as Zigadoo Moneyclips.
Up to this point, Zak had been piecing together the songs on his computer, using beats and loops to create the fullness of sound he heard in his mind – but to fill out the band for this gig, he brought in Josh Aguilar on saxophone and Adam Brooks on fiddle. The laptop was still on stage, though, their fifth ghostly member shooting out drum clicks and recorded bass lines – it still wasn't right, and Zak knew it.
It got stuck in a dark spot.
For a few months in late 2013, Zigadoo Moneyclips was just Zak again as Leigh had to be gone to tend to a personal matter – it was stark and painful and obvious that Zigadoo Moneyclips wasn't just Zak anymore. It was both of them. He was dragged down by her absence and by the lingering issues he had with instrumentation – the monotone sounds from the laptop echoed on a stage that was empty without Leigh. It wasn't just the bright tones of her trumpet that were gone, it was everything – the sway of her hips to their songs, her energy, their coordinated day-glo outfits. He was ready to shut it down.
But when Leigh returned, it was clear she'd spent her time away pining to get on stage again – her excitement was infectious. Zak enlisted the support of Josh Fuller on drums and Jamie Davis on bass and started the first Zigadoo Moneyclips rehearsals as a full (all-human) band. In June of 2014, they were invited to open for a friend. "I thought, we're not ready," he says. "But we never will be – so we just did it."
The band is reborn.
Perhaps that was the night this rowdy, left-of-center band really came into its own – Zak remembers it down to detail. "I've been in so many bands where the point was just to solo and go off on these crazy musical tangents for 10 or 20 minutes," he says. "With Zigadoo Moneyclips, it's about the songs – the lyrics. And that night, people were sitting there, listening, and then they applauded after the songs were over. I hadn't seen that since Mutant Space Bats of Doom! They were actually paying attention to what we were saying, and connecting."
And what they are saying is wild, ephemeral – landing somewhere between social commentary and psychedelia. It's nerd rock and love songs, with a hint of science fiction floated through the influences of pop and funk. It is as odd and hard to pin down as its name: Zigadoo Moneyclips.
BOOKING
A genre-bending blend of alternative, funk, reggae, ska, rock and pop. Zigadoo Moneyclips' debut album Her|Story is a manifestation of the band's point of view – at its core, this is an optimistic record, and an optimistic sound. Funky and freeing, danceable, contagious, but smart, this is a band that must be experienced live.
Download Zigadoo Moneyclips stageplot
Download Zigadoo Moneyclips admat
MEDIA
Stream Zigadoo Moneyclips Her|Story
Download Her|Story one sheet
Download high-res press photos and album art
SOCIALS
Zigadoo Moneyclips on Facebook
Zigadoo Moneyclips on Twitter
PRESS
"This is a lively, upbeat collection of jam-pop tunes from Leigh and Zac Baker with help on bass from Jamie Davis and drummer Paul Taylor. … Should we go ahead and call this festival music? Is festival is a genre? It is now. Zigadoo Moneyclips have a sound that is perfectly matched to a large-scale P.A. outside. Wicked drums and bass with horn punches that tense up and release into breezy choruses, particularly on "Esmerelda." Don't miss "Jig," in which the drummer does things you can't do. The Beale Street Music Festival organizers should get them into a good spot." – Joe Boone, The Memphis Flyer
"There is a lot going on here musically: alt-pop anchored by horns and rhythm-first guitar, with echoes of reggae/ska and (maybe it's just me?) African music; a fiddle excursion that finds common ground between bluegrass and gypsy folk; slinky post-New Wave with clashing rap vocals. Some of it works (more than I expected); some of it doesn't (my tolerance for corniness in rap far exceeds the average, but …). But it's all purposely rooted in song form and connected by a uniform personality. And the band fully owns a horn-driven sound that sets them apart." – Chris Herrington, GoMemphis
CONTACT
Booking: Zigadoo Moneyclips
Press: Elizabeth (at) SignalFlowPR.com
Posted In: Clients